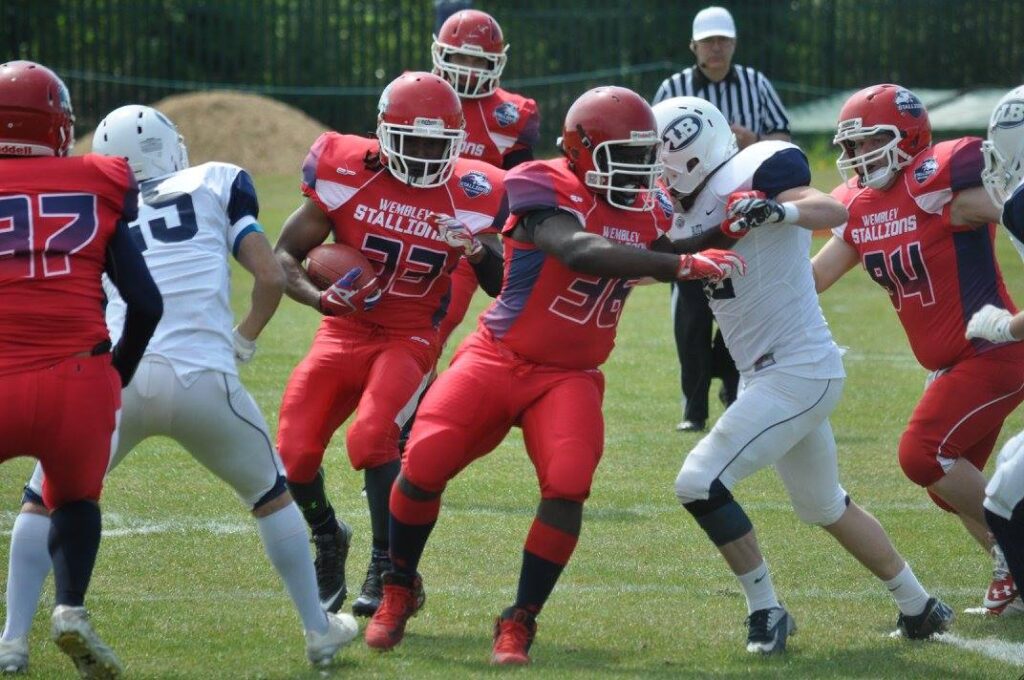 The Stallions senior team are preparing for their next season in competition.
As the Stallions embark on their tenth season in competition there are still opportunities to join the Stampede. Newcomers are always welcome, and it is never too late to start with the Stallions.  Rookie days are 18th and 25th November 2023, contact recruitment@wembleystallions.com for more details.
Pre-season for the Adult Contact team starts Saturday 20th January 2024, at Ealing Trailfinders, newcomers and returners are welcome to join in these sessions as we begin training for the 2024 season.
Have a question? Check our FAQ page and if you don't find it there send us a message
We are pleased to announce that we return to training on Saturday 20th January 2024.  Rookie days are the 18th and 25th November 2023.  Keep an eye on our social media pages (Facebook, Twitter, Instagram) for details or email recruitment@wembleystallions.com
2024 Preseason Training
January – March; Every Saturday @ Ealing Trailfinders RFC, Vallis Way, Ealing W13 0DD
League Season
April  – August 2024 @ The Ranch, LPOSSA, Greenford Road, Hussain Close, HA1 3QL.
Post Season
August  – September  2024
The Team trains every Saturday between 9:30am and 1:00pm
There is also mid week training on Wednesday evenings from 7:00pm to 9:00pm.
Newcomers are welcome at any time.
January – March
Ealing Trailfinders RFC
Vallis Way
Ealing
W13 0DD
April – August
LPOSSA
Hussain Close
off Greenford Road
HA1 3QL